• No Investment - everything you need to get started at no cost.
• 220 DVDs in 4' space.
• POS Software and hardware available. Both are top of the line equipment.
• Flat Screen Monitor, thermal printer, scanner, and micro hard drive
• Windows based software provides inventory and accounting management
• All items bar-coded for quick and easy transactions.
• Customized signage and marketing programs provided
• We provide a competitive inventory buyout for stores doing their own DVD Program
• We have been an industry leader for more than 25 years with over 2600 locations nationwide.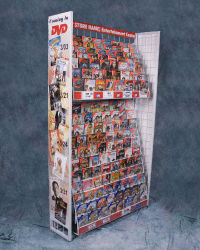 We offer the most efficient, space saving point of sale hardware and software DVD Rental System in the Industry!
ET Video offers the most efficient, space saving POS hardware and software DVD Rental systems in the industry. Check out why you should use our point of sale system here.
We take pride in our Customer Service and will do what it takes to make your rental system as profitable as it can be.
• An ET Video Sales Representative visits your store every 3-4 weeks
• Store is invoiced on each visit and an ACH is used for easy payment
• Rotates in new product and takes out slow moving product
• Merchandises displays
• Updates signage, posters, and POP
• Checks inventory on each visit
• Implements our Monthly Promotions